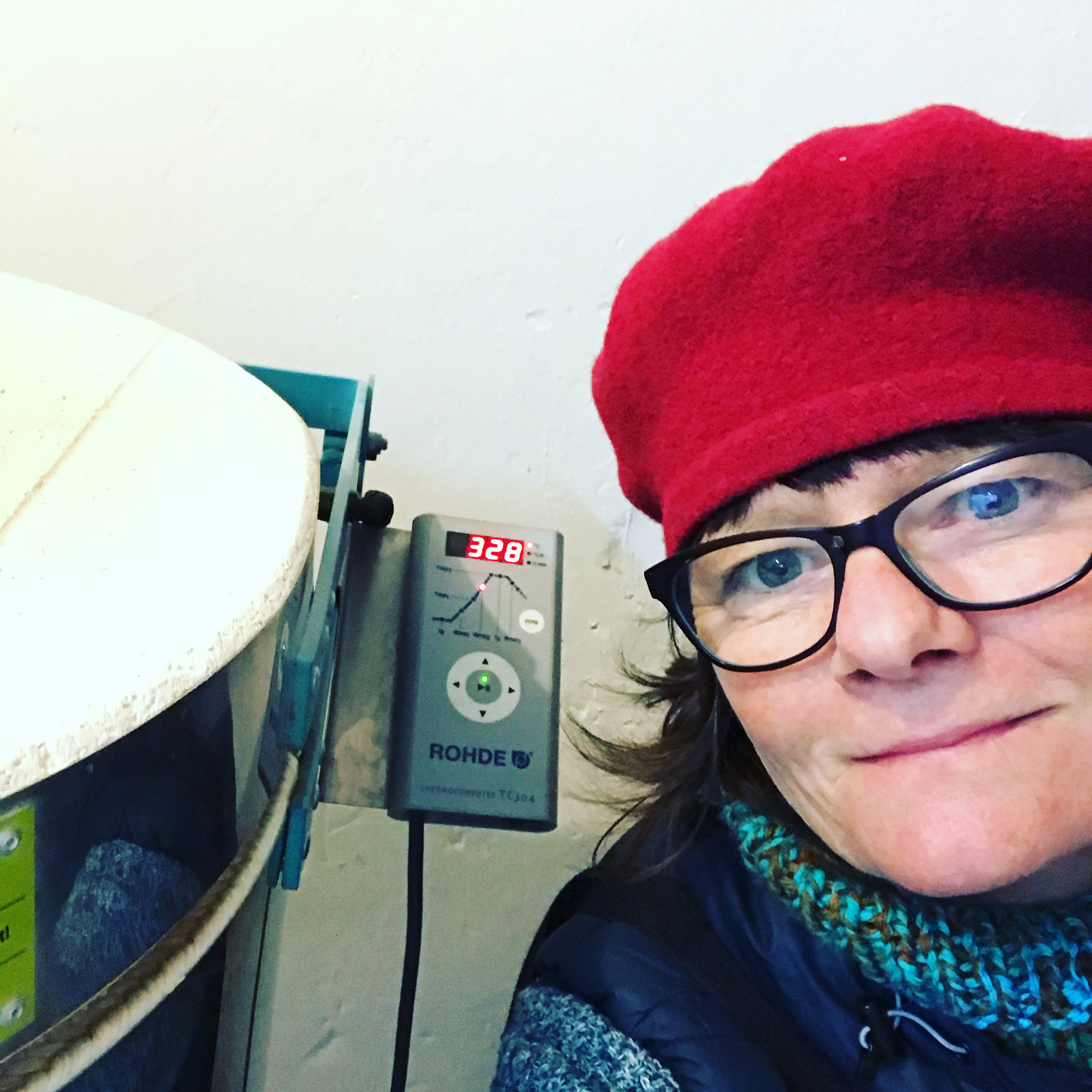 Hello. I'm Clare.
And this is FAnglès.
I believe people learn best when their imaginations are engaged. Becoming proficient in a new skill or a new language is often seen as a difficult, challenging process. But it does not need to be. In fact, I find that students respond best when new skills are linked to creativity.
I founded FAnglès because I wanted a space to share my passion for art and language with others, using a unique approach that makes classes enjoyable, and as a result makes learning less of a challenge.
I have more than 15 years of teaching English as a foreign language here in Barcelona and before that I spent nearly 20 years in London. I attained a BA (Hons) in Ceramics from Camberwell School of Art, spent a few years designing and selling ceramics and then went on to specialise in employee motivation research at MORI/IPSOS working with small, medium and FTSE 100 companies.
Where does the name "FAnglès" come from?
FAnglès is a portmanteau of three Catalan words:
Fa: To do/make
Fang: Clay
Anglès: English
It is the combination of these three pieces that make up the FAnglès approach: Learning through Creativity. 
What makes FAnglès different?
Learn English from a native speaker who has made Barcelona home
"Clare is such an enthusiastic, funny and open-minded teacher. Thanks to her high experience and her command of the job, the students learn English with almost no effort. More than an English teacher, she is a friend!!"
"Clare is a dynamic and motivating person when she teaches English: Flexible when necessary, manages the timing of classes very well and all this surrounded by a lovely and positive attitude."
"Clare is definitely the best of all the English teachers I've had over the last 4 or 5 years. She has a very easy to understand accent and makes you listen in all classes. I will not change teachers for many years."
Speaking English well opens doors for everyone, from established professionals seeking to expand their reach, to young learners seeking educational opportunities and future career prospects.
I am a native English speaker who understands the intricacies of the language. My childhood was spent travelling the world; I lived in Belgium, South Africa, Sweden, India and the UK before falling in love with Barcelona, now my home for the last 15 years.
I am fluent in Catalan and have an advanced level of Spanish. This means I both understand the challenges and the parallels between the three languages, and can use that understanding to help my students learn.
Most importantly, I understand why — and how — people learn.
Children absorb new skills and learn about the world around them through creativity. At FAnglès, we encourage that, bringing this creativity into the classroom and using it as a motivator for learning.
Adults also respond well to this method which makes classes more dynamic and enjoyable. After students' needs and levels are assessed, achievable objectives are set together and a way to meet them is planned.  Many people find that using authentic material related to daily life, work or current affairs is more interesting and motivating than a text book. Those preparing for an exam would be encouraged to combine both authentic and exam preparation material.
Get in touch with your inner creativity
"Clare's workshops are a joy to be in. I had such a great time, met some lovely people and learned all sorts of techniques I never thought was possible with clay! So glad I chose to take up the classes and now I have my own ceramics pieces, proudly on my coffee table at home."
"I didn't realise how much there is to ceramics: so much to learn and discover! Clare is a wonderful teacher and she made me feel so comfortable in my first lesson, thank you."
"Thank you so much for a wonderful month of fun and learning in your amazing studio. I cannot recommend Clare's workshops enough, a must do! "
Everyone can benefit from a bit more art in their lives. At FAnglès we believe everyone has the potential to create objects that are beautiful, functional, and/or fun. Come and discover talent you never realised you had, or nurture and improve on existing skills. 
The ceramics classes are designed to give each individual the space to let their imagination go, but with the individualised support and facilitation needed to make clever ideas into real ceramic pieces to take home and share with others. 
Our children's workshops help young learners refine motor skills and explore what they are capable of making with their hands.
Our classes for adults offer the opportunity to create whatever participants desire – from teapots to jewellery, ornaments to serving dishes – over friendly conversation and the chance to meet new people. Evening adult classes are known to end with a bit of cava (or a cup of coffee in a morning session!).